Welcome to RichardArmitageOnline.com
This is an unofficial website about the work of the British actor Richard Armitage, star of The Hobbit, Strike Back, Spooks, Robin Hood, North and South and The Vicar of Dibley.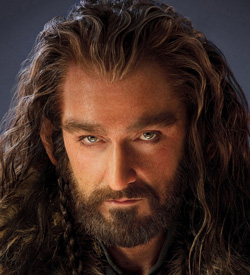 There's information here about his television, film and theatre work, including pictures and video clips of many of his TV and film roles. You can also read his comments about his characters, taken from published interviews.
Navigate to any of his roles from the menu at the top of the page, or go to the Television Career, Film Career, Theatre Career or Voice Career pages and follow the links from there. Also see...
- Recent updates to the site (below)
- Forthcoming work (below)
- Messages from Richard Armitage, sent to his fans from
December 2004 onwards
This site is an Amazon.co.uk Associate and a BookDepository.co.uk Affiliate, and all commission earned from sales referred from the site will be donated to charity.
If you follow any of the links on this site to Richard Armitage's DVDs or audiobooks at Amazon UK
or The Book Depository and make a purchase (whether of that item or anything else), some money is donated to charity. Further details of these schemes...
Annette
Message from Richard Armitage, 28th November 2012
Dear Friends,
So I am sitting in my hotel room from which I can see a very long red carpet and The Embassy Theatre. I am nervous, excited and quite emotional, the day has arrived when we can finally present our work for everyone to hopefully enjoy.
I wanted to say thank you for the continuing support that I receive from everyone who visits Annette's brilliant site, and those others which have popped up over the last few years and months. It means so much to me to have that support. I truly hope you all enjoy The Hobbit, I tried to respect the responsibility that taking on this role presented to me, my fellow cast members are all spectacular in the story and we send out our work to you in the hope that you can take your friends and family to see a great event in the cinema.
I look forward to saying thank you, at the various premiers over the next few weeks.
See you on the Red Carpet.
Much love
Richard
fumblingly sent from my iPad
If you'd like to contribute to any of the four charities supported by Richard Armitage, please see his JustGiving pages.
Please note that as from November 2012, the site will no longer be updated with all the latest news, but it will be updated and maintained as a broad record of Richard Armitage's career. I hope you'll continue to find it useful.
Recent updates to the site
May 2013
Articles and interviews : 2013 Added several interviews that Richard gave while visiting Australia recently to promote the release there of the DVD of The Hobbit: An Unexpected Journey. They include video interviews with CNET Australia, GO POP on SFTVau, and Mornings on Channel 9, and a radio interview with Dan &Maz on 2day FM. Also Q&As with Popcorn Taxi at a special showing of the film, and with Warner Bros Australia, as well as interviews with The Vine and MMGN (9th May).
Added a video interview with IGN, a radio interview on the Scotty & Nige Show, and interviews with The Music, News.com.au, and MovieFIX (18th May).
April 2013
Articles and interviews : 2013 Added links to a radio interview with Steve Wright, a video of a radio interview with Sarah-Jane Crawford, and an interview in the Independent on Sunday (9th April). Also added a link to a radio interview with Dino and Pete of Capital East Midlands, and replaced the link to the Steve Wright interview on iPlayer with a downloadable MP3 clip (10th April).
Added a link to a fascinating discussion between Andy Serkis, Richard Armitage and James Nesbitt for iTunes Germany; also some comments by them about Smaug for IGN, for Digital Spy and for Yahoo Movies. Also added a radio interview with Rick Astley for Magic 105.4, and interviews with DIY, SFX and HeyUGuys (14th April).
March 2013
Articles and interviews : 2013 Added Richard's interview with Lorraine Kelly, including a link to the recording of it posted on YouTube by RichardArmitageNet.com (9th March).
Added an interview with BBC Radio Leicester about Richard's reactions to the recent discovery of the bones of Richard III in Leicester. Nb This complete recording of the interview, broadcast on The Jim Davis Show, replaces the excerpt broadcast earlier on Talking History (13th March).
Added a copy of the Lorraine Kelly interview hosted on this site (16th March).
Added a link to a video interview that Richard gave to TheOneRing.net (24th March).
Added an interview with Total Film, May 2013, which is currently on sale in the UK (30th March).
The Hobbit : Miscellany Added a note about the recent Twitter session in which Richard Armitage, Andy Serkis and James Nesbitt answered questions from fans. Includes a link to a screen shot of the conversation (9th March).
Also added a link to the film for Tourism New Zealand in which Richard and other cast and crew speak about working in New Zealand (24th March).
Links Added a link to Richard Armitage France, a site containing translations into French of many of Richard's interviews (15th March).
The Hobbit Updated with the new release date for the final film of the trilogy, 17th December 2014. It had previously been scheduled to be released in July 2014 (3rd March).
The Hobbit : Production Details, DVDs etc Updated with the US and UK release dates of the DVD and Blu-Ray discs of The Hobbit: An Unexpected Journey, and the new release date for the The Hobbit : There and Back Again (3rd March).
February 2013
Articles and interviews : 2013 Added an interview and photo-shoot in Fault magazine about The Hobbit and Black Sky, with a link to a video of the photo-shoot (13th February).
January 2013
Articles and interviews : 2012 Added a long and detailed interview with Middle-Earth News, and a video interview for HeyUGuys conducted as part of the pre-premiere publicity in London (27th January).
Articles and interviews : 2013 Added an interview in Glamour magazine (1st January), and a link to a video on the Glamour magazine website of the photoshoot for it (3rd January). Also added an interview in Nylon Guys - many thanks to Valerie Cross for the images. The magazine is available from Zinio (4th January).
December 2012
Articles and interviews : 2012
Added a fascinating interview with Richard Crouse in Canada about The Hobbit, a video of Richard Armitage appearing on The Marilyn Denis Show, and an interview with journalists in Toronto (4th December). Added his interview on Today, and an interview on the FlicksAndBits website (5th December). Also interviews with Damnit Laurie and TheOneRing.net (6th December).
Also interviews with the Wall St Journal, Monsters and Critics, Cineplex, Today and Cinema.de (8th December), and with USA Today and Jake Hamilton (9th December). Interviews with GQ, George Stroumboulopoulos, The Telegraph, Huffington Post, and New York Daily News (15th December). Interviews with USA Today, Hollywood.com (a second page related to this interview shows a picture of him in Star Wars: The Phantom Menace), The Tribute, Collider. Also added an extra video of unbroadcast footage from the George Stroumboulopoulos interview (16th December).
Added a video interview with City, a Canadian TV station, and an extensive interview with the Leicester Mercury. Also a pair of delightfully funny interviews for Cinemax in which Richard Armitage and Martin Freeman ask each other questions (18th December). Added video interviews with Digital Spy, Entertainment.ie and The Record, interviews with Metro News and MSN Movies, and the second part of TheOneRing.net's interview (19th December).
The Hobbit Added an extra section about the film's reception - its record-breaking first weekend at the box-office, and the reviews of the film, including praise for Richard Armitage's Thorin Oakenshield (18th December).
The Hobbit : Premieres Added links to videos of the Japanese premiere, including quotes from the press conference beforehand. Also added links to two more interviews on the red carpet at the New Zealand premiere, and two more pre-premiere cast interviews (2nd December). Updated with information about the Toronto and New York premieres (8th December). Added information about the London premiere (16th December).
The Hobbit : Videos Added a link to Return to Middle Earth, a 13 minute ENTV special about the filming, and several more TV spots (8th December). Added the tenth production video, which covers the world premiere in Wellington (15th December).
Forthcoming work
Richard's latest appearance is in the first of Peter Jackson's three films of The Hobbit, based on the novel by JRR Tolkien. The remaining two parts will be released in December 2013 and December 2014. Some further filming is scheduled for May, June and July 2013.
He has also been shooting Black Sky, a film for New Line about a tornado, which is due for release in 2013.