Welcome to RichardArmitageOnline.com
This is an unofficial website about the work of the British actor Richard Armitage, star of The Hobbit, Strike Back, Spooks, Robin Hood, North and South and The Vicar of Dibley.
Please note that as from 1st January 2014, this site is no longer being updated.
Technical problems with some of the software I use to run the site have meant that I'm unable to add new pages to it. Because the work involved in updating the site to use new software would take more time than I have available, I've decided to leave it in its present state indefinitely, as a record of Richard Armitage's career to date.
Many thanks to everyone who's supported the site over the years, and to Richard Armitage for sending his messages to his fans to this site, as well as for the very great pleasure his work has given me over the last nine years.
Annette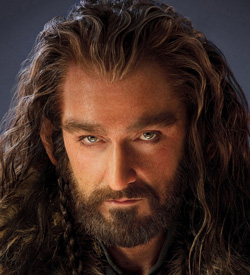 There's information here about Richard's television, film and theatre work up to December 2013, including pictures and video clips of many of his TV and film roles.
Navigate to any of his roles from the menu at the top of the page, or go to the Television Career, Film Career, Theatre Career or Voice Career pages and follow the links from there. Also see Messages from Richard Armitage, sent to his fans from December 2004 onwards.

This site is an Amazon.co.uk Associate, and all commission earned from sales referred from the site will be donated to charity. If you follow any of the links on this site to Richard Armitage's DVDs or audiobooks at Amazon UK
and make a purchase (whether of that item or anything else), some money is donated to charity. Further details of this scheme...
Message from Richard Armitage, 19th December 2013
Hi everyone,
Well I just wanted to come on line and wish everyone a Happy Christmas (Turkey Day or Holiday, depending on your preference) it's been another wonderful year, which has been full of hard work, fun and surprises. Thank you for your continuing support of my work, I hope you never underestimate what that means to me personally. Seeing so many at the LA premier (sorry about the un fan-friendly red carpet) Berlin, London, Madrid is really the highlight of the year. I am very proud to have such a dedicated community of 'well wishers' (better word than fans...right?) Proud because of the dignity and decency with which you communicate with each other and document your ideas. It's always illuminated with positivity and support for each other, unlikely friendships forged through a common interest. That makes me proud, and brings me to my real reason for the message. To say a huge thank you to Annette Gill, who has worked so hard on her web pages, doing exactly what I just described in a very elegant way. I think she is truly a wonderful journalist and archivist and I would like to thank her personally for all the time she spent creating and updating the site.
I wanted to wish you love and happiness for 2014, thank you for the generous gifts and the donations to the 'Just Giving' pages I think our totals are looking very healthy.
Without getting into a pulpit or onto soap box, (cynics tune out now!) I want to say that for me especially as I get older, this time of year becomes more about making the journey to be with family or friends and sitting around a table which hopefully has some good food on it, however bountiful that is. But for those who don't have very much or are alone, I wish them at least a sense of peace for a day. I know that I am happiest when I can be useful, which usually involves giving time and effort towards something. That gives me peace. (Guess who's making the gravy this year!!)
This quote isn't meant to be maudlin, because I actually find it uplifting, but it expresses what I mean. It's Sonya from Chekhov's Uncle Vanya.

What can we do? We must live out our lives....we shall live, Uncle Vanya. We shall live all through the endless procession of days ahead of us, and through the long evenings. We shall bear patiently the burdens that fate imposes on us. We shall work without rest for others, both now and when we are old. And when our final hour comes, we shall meet it humbly.... we shall enter on a bright and beautiful life. We shall rejoice... A tender smile -- and -- we shall rest. We shall hear the angels. We shall see heaven shining like a jewel. We shall see evil and all our pain disappear in the great pity that shall enfold the world. Our life will be as peaceful and gentle and sweet as a caress. I have faith...we shall rest.


fumblingly sent from my iPad
If you'd like to contribute to any of the four charities supported by Richard Armitage, please see his JustGiving pages.
Recent updates to the site
December 2013
Articles and interviews : 2013 Added interviews with the New Zealand Herald, Daybreak, Access Hollywood, Today, 3 News, Rotten Tomatoes, TheOneRing.net and New York Moves (8th December). Also two interviews with MTV News, as well as Den of Geek, Los Angeles Times, Made in Hollywood, Hitfix, EmpireOnline, Access Hollywood, and Total Film (31st December).
Links Added links to the Richard Armitage US Facebook page, and a North and South fansite (31st December).
The Hobbit : Videos Added a link to the thirteenth production blog for The Hobbit (8th December). Also added a link to the fourteenth production blog (20th December).
The Hobbit : Premieres Added information about the world premiere of The Hobbit: The Desolation of Smaug in Los Angeles, with links to a recording of a live-stream, and interviews and reports (8th December). Also added links to videos of the Berlin premiere (18th December).
The Hobbit Added a summary of the - generally very positive - reviews of The Hobbit: The Desolation of Smaug (8th December).
November 2013
The Hobbit : Videos Added a link to the twelfth production blog for The Hobbit (10th November).
October 2013
The Hobbit : Miscellany Added information about the new commemorative stamps and coins being released by New Zealand Post (27th October).
The Hobbit Added a note about the international release dates for The Hobbit: The Desolation of Smaug (20th October).
Articles and interviews : 2013 Added a short interview about filming the barrel scene (20th October).
The Hobbit : Pictures Added a new banner that was released today for The Hobbit: The Desolation of Smaug (1st October), and a still of Thorin Oakenshield (3rd October). Also a super-horizontal banner for the film (20th October).
The Hobbit : Production details, DVDs etc Updated with information about the release of the Extended Edition of The Hobbit: An Unexpected Journey, and a number of tie-in books for The Hobbit: The Desolation of Smaug (19th October).
The Hobbit : Videos Updated to include a link to the trailer released today for The Hobbit: The Desolation of Smaug (1st October).
September 2013
About RichardArmitageOnline.com Added details of three donations to charity of commission earned by this site from Amazon.co.uk and BookDepository.co.uk: £89.97 to Shelter, £93.78 to the NSPCC (Childline) and £73.46 to Crisis. Many thanks to all who have bought from Amazon UK and the Book Depository via this website to raise this money (24th September).
Into the Storm Updated to reflect the change of name for this film, from Black Sky to Into the Storm (24th September). Updated to include the release date, now announced by Warner Bros as 8th August 2014 (25th September).
August 2013
Fraud Squad Addded a clip from the recently broadcast episode (18th August).
Articles and interviews : 2005 Converted interviews with Radio Cumbria and Radio 2 from RealPlayer to MP3 format (17th August).
July 2013
The Hobbit : Videos Added a link to Peter Jackson's eleventh video blog, which covers the pick-up shooting on The Hobbit.
June 2013
The Hobbit : Videos Added a link to the first trailer of The Hobbit: The Desolation of Smaug, which was released today (11th June).
May 2013
Articles and interviews : 2013 Added several interviews that Richard gave while visiting Australia recently to promote the release there of the DVD of The Hobbit: An Unexpected Journey. They include video interviews with CNET Australia, GO POP on SFTVau, and Mornings on Channel 9, and a radio interview with Dan &Maz on 2day FM. Also Q&As with Popcorn Taxi at a special showing of the film, and with Warner Bros Australia, as well as interviews with The Vine and MMGN (9th May).
Added a video interview with IGN, a radio interview on the Scotty & Nige Show, and interviews with The Music, News.com.au, and MovieFIX (18th May).
April 2013
Articles and interviews : 2013 Added links to a radio interview with Steve Wright, a video of a radio interview with Sarah-Jane Crawford, and an interview in the Independent on Sunday (9th April). Also added a link to a radio interview with Dino and Pete of Capital East Midlands, and replaced the link to the Steve Wright interview on iPlayer with a downloadable MP3 clip (10th April).
Added a link to a fascinating discussion between Andy Serkis, Richard Armitage and James Nesbitt for iTunes Germany; also some comments by them about Smaug for IGN, for Digital Spy and for Yahoo Movies. Also added a radio interview with Rick Astley for Magic 105.4, and interviews with DIY, SFX and HeyUGuys (14th April).
Forthcoming work
Richard's latest appearance is in Peter Jackson's three films of The Hobbit, based on the novel by JRR Tolkien. The final part will be released in December 2014.
Into the Storm, a film for New Line about a tornado, is due for release in 2014.