Miscellany
Miss Betty Pattison
In his teenage years, Richard Armitage attended Pattison's Dancing Academy in Coventry (now Pattison College), a stage school where he learned dance, drama and music. In September 2010, the founder of the college, Miss Betty Pattison, died at the age of 90. In a letter to her family, quoted in the Coventry Telegraph (25th September) he spoke warmly of her.
""I think it's safe to say that it was the most influential time of my life and really laid the foundations for, not only my subsequent career, but also my character. At the beginning I was afraid of disappointing Miss Pat. But by the time I left I was concerned about disappointing myself."
He also recorded a eulogy that was played at her memorial service in Coventry Cathedral two months later. Further information...
British Academy of Film and Television Awards, June 2010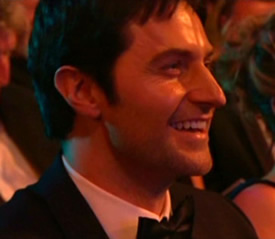 Richard presented the award for Best Supporting Actress to Rebecca Hall (for Channel 4's Red Riding 1974 ) at the BAFTA Television Awards ceremony at the London Palladium on 6th June. Watch the presentation...
The eighth series of Spooks was nominated in the category of Best Drama Series, but the award went to Channel 4's Misfits. Spooks has been nominated five times for the Best Drama Series award, and won it for its first series in 2002.
These awards are the most important of the year in British television, and the ceremony, presented this year by Graham Norton, is attended by the cream of the industry. See Picture 24 at the BAFTA website's gallery for a photo of Richard arriving at the ceremony.
Sharon Marshall reported from the BAFTA's on ITV's This Morning the following day. Richard Armitage was among those she spoke to on the red carpet before the ceremony. Watch...
British Academy of Film and Television Awards, April 2009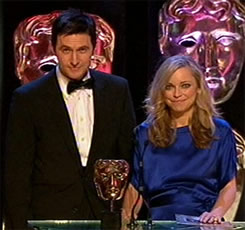 Richard Armitage and Sarah Alexander presented the award for Best Comedy Performance to David Mitchell for 'Peep Show' at the British Academy Television Awards, held at the Royal Festival Hall in London on Sunday 26th April.
Watch a clip of Richard presenting the award...
See also Richard Arnold's report for GMTV as he interviewed the stars arriving for the ceremony, including Richard Armitage.
The seventh series of Spooks was nominated for Best Drama Series, but the award went to Kenneth Branagh's Scandanavian detective drama 'Wallander'. Spooks previously won this award in 2002, and was also nominated in 2004 and 2005.
The BAFTAs, awarded annually by the British Academy of Film and Television Arts, are the most prestigious awards in the British television industry.
BBC Showcase, February 2009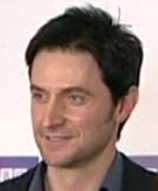 BBC Worldwide's annual Showcase event took place in Brighton in February 2009. Richard Armitage was one of the actors who attended, helping to sell BBC programmes to overseas broadcasters. (Spooks and Robin Hood are among the five most successful TV series sold by the BBC around the world.)
He was featured very briefly in a report from the event on BBC Breakfast on 25th February (with thanks to Yorkshirewench for the video clip). Also seen in this clip are Robert Glenister (see below), and Julie Graham, with whom Richard appeared in Between the Sheets in 2003.
And he and Robert Glenister (who appears in several episodes of Spooks as the Home Secretary) were interviewed by The Stage for its weekly podcast as part of its coverage of BBC Showcase. They discussed Spooks, and Richard also spoke about the new series of Robin Hood. Listen to the podcast at The Stage's website (the interview begins at approximately 13' 30"), or read a transcription of some of Richard's comments.
Richard Armitage tops poll of romantic novelists, February 2009
Richard was voted into first place in The Romantic Novelists Association's annual Valentine's poll. Each year, romantic novelists are invited to vote for the man they consider to be the sexiest. In 2008 Richard was fourth in the poll, but in 2009 he beat the likes of Johnny Depp, George Clooney and Daniel Craig to come top, polling 20% of all the votes, more than twice as many as any other man. Further information...
The story was picked up in a number of national newspapers, including the Daily Mail, Guardian and Daily Express.
Patron of 'Playing Shakespeare' project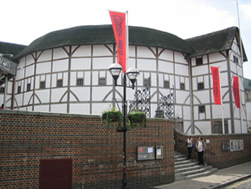 Richard Armitage is one of the patrons of an education project for schools at Shakespeare's Globe Theatre in London, now in its second year. 'Playing Shakespeare with Deutsche Bank' aims to stage free performances of Shakespeare for children, most recently a production of Much Ado About Nothing performed at the Globe Theatre in March 2008. Over 10,000 London schoolchildren aged between 11 and 14 were able to see the play. Many were also able to take part in workshops beforehand to help them study it.
Richard Armitage explains on the Globe's website why he supports the project. Other patrons include Sir Derek Jacobi, Patrick Stewart and Joseph Fiennes.
(Richard is a former member of the Royal Shakespeare Company, having appeared in Gregory Doran's 1999 production of Macbeth with Anthony Sher and Harriet Walter, as well as in Webster's The Duchess of Malfi.)

Richard Armitage as romantic hero, February 2008
In autumn 2007, The Romantic Novelists' Association asked its members to name the man they found most inspirational as a romantic hero in their writing.
The results, published on Valentine's Day 2008, showed that Richard Armitage was voted fourth, behind Johnny Depp, Daniel Craig and Sean Bean, but ahead of Colin Firth, Pierce Brosnan and George Clooney.
Richard Armitage at the Radio Times Covers Party, February 2008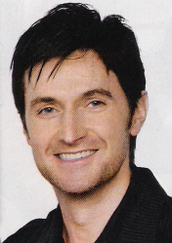 The Radio Times (9-15th February 2008) included an article about their annual Cover Party, to which those featured on their front cover during the previous year are invited. Richard Armitage was among them, as he and Keith Allen were featured on the cover in October 2007. He is pictured at the party with Allen, and also with Patsy Kensit.
Speaking about his next role (Spooks, not at that time announced), he said "I start an exciting project at the end of the month. It's a cutting-edge, quality drama, not a soap. I can't say anything other than it's 'top secret'. And on playing Gisborne, he said, "Guy is a dream part and I can't wait to start filming the third series in Hungary in May. But it will be weird without Lucy [Griffiths]. To kill the woman you love is a very hard part to play. I questioned the writers, and I'm still not sure I agree with it. I've had so much aggressive mail since, I'm a proper baddie now."
Richard Armitage at St Pauls Cathedral, December 2007
Richard Armitage was one of several celebrity readers at the 'Celebration of Christmas' held at St Paul's Cathedral in London on 19th December 2007. The cathedral's choir was accompanied by the City of London Sinfonia, and other readers included Joanna Lumley and Tamsin Grieg.
Women in Film and Television Awards, December 2007
At the WFTV's annual award ceremony on 7th December, Richard Armitage presented the award for Project Management to Jane Wright, Head of Rights and Commercial Affairs for BBC Films.
The awards, sponsored by Channel Five, celebrate the achievements of women in the film and television industry. Over 900 members of the industry attended the special luncheon, which was held at the Hilton Hotel in Park Lane. It was hosted by Jenny Eclair, and presenters included Sir Jeremy Isaacs, Benedict Cumberbatch, Simon Cowell and Sharon Small. Among the awards was a Lifetime Achievement Award for Verity Lambert, who died two weeks before the ceremony, and a Script Award for JK Rowling.
Women in Film and Television was set up in 1990 to promote the status and interests of women working in the film, television and digital media industries. Further information and pictures of the award ceremony can be seen at its website.
Inspired by 'John Thornton'
Such was the power of the BBC adaptation of North and South, and in particular, Richard Armitage's performance as John Thornton, that some of its fans started writing 'fan fiction'. Some of this writing imagined how the story of John Thornton and Margaret Hale would continue, and some retold it in a modern setting. These stories have been posted on Internet messageboards and websites for other fans of the series to enjoy.
Most of the writers had never written fiction before. Two of them, Phillipa Ashley and Rosy Thornton, later moved on to writing original fiction and both have since been published. A third, Elizabeth Hanbury, had previously written some Regency romance but had set it aside. She returned to the genre, and she too has now been published.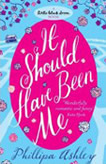 Phillipa Ashley's first book, Decent Exposure
, was published in autumn 2006 as part of HodderHeadline's Little Black Dress imprint of romantic fiction. A sparkling, funny novel, it won her the Romantic Novelists Association's 'Joan Hessayon New Writers Award' in 2007.
Her second novel for Little Black Dress, Wish You Were Here
, is as funny and sassy as her first. Her third novel, also published by Little Black Dress was Just Say Yes
, about a girl whose boyfriend proposes to her live on TV. And they have just published her fourth novel, It Should Have Been Me (whose hero bears a passing resemblance to Richard Armitage), making her one of their most successful authors.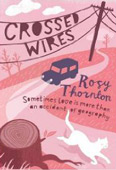 Coincidentally, Rosy Thornton's first book was published within a few weeks of Phillipa's, also by HodderHeadline. A romantic comedy with a twist of satire, More Than Love Letters
is an epistolary novel told in letters and emails. A hero called Richard and a heroine called Margaret are not the only references to North and South that fans of the series may spot.
Her second novel, Hearts and Minds
, is set in a Cambridge college (she is herself a lecturer at Cambridge University), with a heroine the Daily Telegraph described as "vibrantly painted". With her third novel, Crossed Wires
published in December 2008 (and in paperback
in April), she returns to the field of romantic comedy.

Elizabeth Hanbury's first novel, The Paradise Will, was published in April 2008 by Robert Hale. It's a Regency romance set in Dorset in 1818, and it was nominated for the Romantic Novelists Association's 'Joan Hessayon New Writers Award' in 2008. The judge's citation described it as "a thoroughly lovely read, Georgette Heyer-like in its assured touch. The quality of the writing lifts it into a different class."
A collection of her Regency short stories, Midsummer Eve at Rookery End, was published in March 2009 and her second novel, Ice Angel, another Regency romance, was published in June 2009.
(The above links are to the books at Amazon UK. They can also be ordered from Amazon USA by following these links: Decent Exposure, Wish You Were Here, Just Say Yes, It Should Have Been Me, More Than Love Letters
, Hearts and Minds, Crossed Wires, The Paradise Will, Midsummer Eve at Rookery End
and Ice Angel
.
They're also available at The Book Depository: Decent Exposure, Wish You Were Here, Just Say Yes, It Should Have Been Me, More Than Love Letters
, Hearts and Minds, Crossed Wires, The Paradise Will, Midsummer Eve at Rookery End
and Ice Angel
.)
North and South featured in 'Classic Drama - The DVD Collection'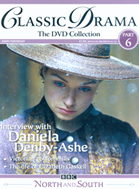 'Classic Drama - The DVD Collection' is a fortnightly part-work magazine that comes with a DVD of a classic drama in each issue.
The magazine contains articles about the drama and the novel on which it is based, and background information about the writer and the context of the novel. Parts 6 and 7 featured North and South and were published in the UK in June and July 2007, and later in Australia and elsewhere.
Part 6 The magazine features a short article about the casting of Richard Armitage as John Thornton, information about Elizabeth Gaskell and the novel, a summary of the characters and an article about the textile industry. There is also an interview with Daniela Denby-Ashe (Margaret) and an article about the Victorian parlour. The DVD contains episodes 1 and 2 of the series.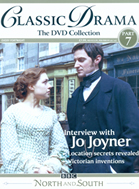 Part 7 The magazine contains an interview with Jo Joyner (Fanny), another article about Elizabeth Gaskell, information about the locations used in the series, and articles about Victorian unions and inventions. There is also a cut-away diagram of 'Marlborough Mills' (based on Dalton Mills, Keighley, where the exteriors were filmed). The DVD has episodes 3 and 4, together with extras that include an interview with Richard Armitage (as in the original BBC release of the DVD).
To order these two parts, see the publisher's website, or phone 0871 277 0096 (UK), 1890 719993 (ROI), 03 9872 4000 (Australia), 09 308 2871 (New Zealand), 011 265 4308 (South Africa) or 2366 7209 (Malta).
British Academy of Film and Television Awards, May 2007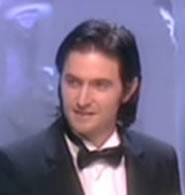 Richard Armitage presented the award for Best Drama Serial at the British Academy Television Awards ceremony on Sunday 20th May 2007 at the London Palladium. The 'BAFTAs' are the most important annual awards in British television.
Pictures and video clips of Richard at the ceremony can be seen here... See also this clip on the BBC's YouTube channel in which he is asked, as he arrives for the ceremony, who he'd like to share an on-screen kiss with.
The Vicar of Dibley Christmas Special was one of the nominees for the Pioneer Audience Award for the Best Programme of 2006, but it was beaten by Life on Mars. This award is the only one that's voted for by viewers.
The British Academy Children's Film and Television Awards, November 2006
Richard Armitage presented an award at the Children's BAFTA Awards, held at the Hilton Hotel in London on 26th November 2006.
In an interview in The Sunday Mercury on 17th December that year, he said "I went to the Children's BAFTA's to present an award and these three lads, aged about 14, came up to me. One said 'Can I give you a hug? We love Robin Hood, we watch it every week.' He was so excited. That really moved me and made my year."
National Television Awards, November 2006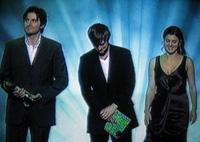 On 1st November 2006, Richard Armitage and his co-stars from Robin Hood, Jonas Armstrong and Lucy Griffiths, presented the award for Most Popular Drama at the National Television Awards.
These awards are voted for by the British public and are held at the Royal Albert Hall. The Most Popular Drama award went to Doctor Who, and was accepted by David Tennant, Billie Piper and other cast members.