Ultimate Force : Playing Ian Macalwain
Richard Armitage plays Captain Ian Macalwain, the leader of Red Troop.
He is brought in to the troop after Captain Dotsey Doheny leaves at the end of the first episode of the second series. Macalwain is very different from Doheny, who had won the trust and respect of his men. He does things by the book, and demands the respect due to his rank. His manner rapidly antagonises the men, and in particular, Henno.

"He's from a military family and is under pressure from his family to do well. He is very clean cut and quite conservative in the way that he dresses and views himself. Being vain doesn't come into his head - he's just efficient, efficient, effiicient. He goes by the book and doesn't have any improvisation skills, so when things go wrong he feels the rug is being pulled from underneath him. Henno is under great pressure and improvises; Macalwain sees this and it aggravates him even further. He has a bit of a low self-esteem that he replaces with arrogance." [1]

In practice, Henno is the real leader of the troop, and he frequently undermines Macalwain, who, unlike Doheny, is not smart enough to work with him.

"Macalwain is not a bad guy, but he is a bit edgy. I don't think I am anything like him, which is why it is interesting to play him. He's eloquent with a sharp tongue and can humiliate people in an argument, which was really enoyable to play. He comes in as a captain and throws his weight around." [1]

It's that kind of behaviour that soon causes him to become alienated from and disliked by the men.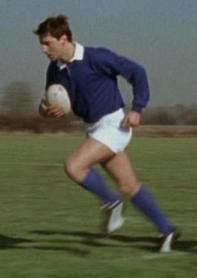 When he first joins Red Troop in episode 2, Macalwain suggests getting the men involved in a rugby game. As an ex-public schoolboy, Macalwain is a rugby player, and is supposed to be teaching Henno and the troop to play it. In fact, it was Ross Kemp and not Richard Armitage who was an experienced rugby player. "They asked if I could play rugby and whilst I'd played at school, that was years ago. My friend is a brilliant player and he taught me some moves. But when we got there, the weather was bitter and the ground was like concrete. They'd asked a proper rugby team to play against us and I got a "hospital pass", which left me really winded and in pain. I regretted lying about that one, but it's on my showreel now - it cost me so much pain I had to include it!" [2]
"I am fairly fit but I didn't know instinctively where to run. Luckily Ross Kemp had a big hand in training everybody and brought in a friend who was brilliant and pointed me in the right direction. When it came to the scene, we were standing out in minus three-degree winds and for a few moments I thought it would be good to be somewhere else. But it was very satisfying to tackle some of the other guys and pull them down!" [1]

Macalwain begins to grow close to Laura, the wife of one of his men, Pete Twamley. Although ultimately it is she who seduces him by coming to his hotel room, he is soon so deeply involved with her that he is prepared to give up his career to take her away from her violent husband. Horrified, she pulls back, not wanting to leave Pete. But Macalawain is unable to accept this, believing that eventually she will come away with him.

By this time, Henno has found out that Macalwain has slept with Twamley's wife - the ultimate betrayal in his eyes. In the final episode, he takes matters into his own hands during a mission to rescue Colonel Dempsey, the regiment's commanding officer.
"That series was such fun to make. It was a real lads' drama. We got to play rugby, handle lots of weapons and chat to the SAS advisors on set." [3]



Sources
[1] Ultimate Force Series 2 DVD booklet
[2] Vivid magazine, Spring 2005
[3] Sunday Mercury, 23rd November 2003